BIRDING IN SOUTH LUANGWA
Posted on Mon May 8, 2023.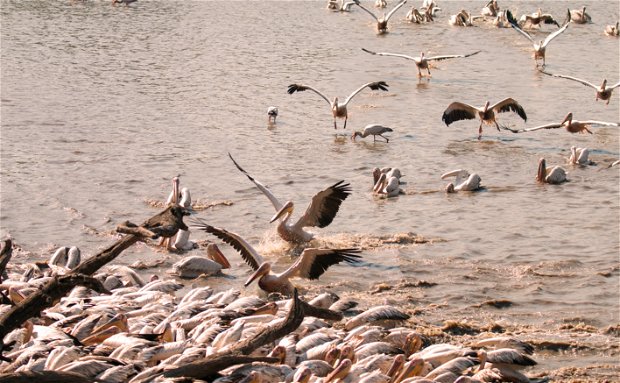 Zambia is one of Africa's leading birding destinations, home to some of the rarest birds in Africa the Shoebill, African Pitta and, with over 750 species of bird through the diverse ecosystems and over 450 species in South Luangwa it is a birders paradise.
Whilst birding is fantastic throughout the year in November/December just before the rains arrive the species list drastically increases as the migrant species arrive. A firm favourite, the Carmine Bee eaters come in their thousands to nest on the banks of the Luangwa River.
The Emerald season, with its thick foliage and thriving insect population brings the palearctic and intra African migrants and although some of the areas have limited access there are some incredible opportunities for keen birders to tick off "lifers" from their lists such as the endemic Chaplin's barbet and black cheeked Lovebird. This is also the time the male birds come into their breeding plumage. Marveling at the mating dances, large distinctive tails and bright colours it's a twitchers paradise!
The key to having a successful birding trip on safari is to find the bird "parties" where you can find 20-30 species together in one habitat. For example, the Mopane and Ebony Woodlands that are lined by the Lagoons ensuring a variety of species in one area. Of course, it is not just the birds South Luangwa is famous for the wildlife in the park is also prolific with the South Luangwa Valley being famous for its dense number of Leopard, large Wild dog packs, numerous Lion prides, plains game, endemic Thornicroft Giraffe, Crawshay's Zebra, Cookson's Wildebeest and large Elephant herds.
Some top Bird species to look out for include the Lillian's Lovebird, African Skimmer, African's Crake, Dwarf Bittern, Racket Tailed Roller, the five species of Kingfisher, Western Osprey, Southern Ground Hornbill, Narina Trogen, the many raptors and Vultures and not to forget the colourful Bee-eaters and Weavers. 
There are also a number of Nocturnal Birds such as the Pel's Fishing Owl, Giant Eagle Owl, Pennant-winged Nightjar to name a few.