Pre Departure Information
As you will be in a remote area it is great to be prepared and go through the packing list in good time before your trip!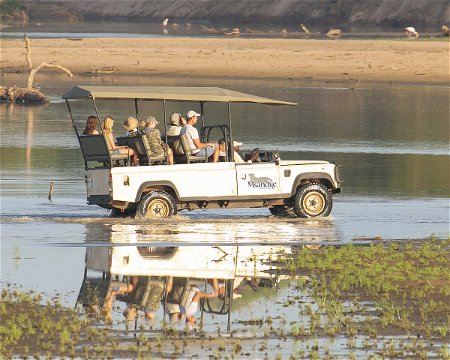 What to Pack
Neutral coloured clothes
Long sleeved shirts and trousers to protect against sun and mosquitos
Loose light clothing you can wear in the heat and layers for when it gets cooler at night
A light water proof jacket in the green season in case you experience any rain 
Comfortable walking shoes and closed toe shoes for walking around camp at night 
Swimwear-the pool is a welcome and refreshing experience during the heat of the day
Your camera, extra storage cards, batteries and charging cables
Binoculars (your guide will have a set they are happy to share)
A light weight backpack to take on safari
A torch for the night time although the lodge does have spares
Please note the lodge has English 3 pin charging points (please bring adapters if necessary)
Any reference books you have e.g. bird books
Sunscreen, insect repellant, a cap or hat to protect your head against the sun
Glasses, if you need as contact lenses can be tricky with the dust of a drive
Any medication you take
For women it may be worth bringing sports bras as the game drives can be bumpy!  
Zambia is a conservative country so please try and avoid wearing provocative clothing and leave jewellery at home
Visas
Please check that your passport is valid for at least 6 months beyond your stay and has sufficient blank pages. Depending on the country you reside in you may require a visa which costs USD$25 and may need to be arranged in advance. The list does change so please visit Zambia Immigration for up to date visa information.
Weather
Zambia has a sub-tropical climate with a defined wet and dry season. The dry season typically runs from May to mid-November and a wet season from mid-November to the end of March. Typically, in wet season there are strong tropical storms that last a few hours and bring the bush alive, fresh green and luscious, it is advised to bring a lightweight water proof jacket however the sun will also come out, temperatures are still high and you will dry off quickly! During "winter" temperatures can drop below 10° C so we recommend bringing a jacket and long trousers for the early morning drives as they are cooler however the temperature will climb back to the mid 20s during the midday sun so layers are key! Temperatures soar to the highs of 40°C during the summer months of October and November so make sure to bring plenty of sunscreen and loose light layers. We recommend you wear light neutral colours, khaki, green, sand, browns, white can get dirty quickly in the dust and blue can attract tsetse flies which have a painful and annoying bite!
Quick Facts
Population: 16.59 million 
Capital city: Lusaka
Currency: Zambia Kwacha (ZMW)
Major languages: English (official), Bemba, Lozi, Nyanja, Tonga
President: Hakainde Hichilema
Geographic coordinates: 15 00 S, 30 00 E
Area: 752,614 sq km (290,586 sq miles)
Time: +2 hours GMT
Crossing the border
Need help with information on how to get from Malawi to Msandile by road let us help you with our handy crossing the border guide.
A day on safari
Perhaps this is your first safari and you'd like a step by step guide of what your day will look like? Have a look at our rough guide of a typical day at Msandile.